Instrument Panel and Wiring

---

There was a movie a few years back staring Chevy Chase and Goldie Hawn called the "Money Pit". If you saw and remember that movie, you should understand my description of the Instrument Panel as the "Money Pit".
---
The instrument panel will, in many cases, represent the greatest total investment in your homebuilt aircraft.
I have started on my instrument panel. I made a list of those items which I felt are the required items first. The first decision was rather to build a VFR only panel or an IFR capable panel. Since the mission profile for my aircraft called for a cross country airplane, which the KIS Cruiser is an excellent example, an IFR panel would be the most suitable choice. This will dictate many of the "Required" items for any panel.
---

RC Allen Gyro


Rocky Mtn
Engine Monitor

Control Vision
Switch Panel

Control Vision
Power Indicator
Yes sir, I made my list, I checked it twice, and I started buying those instruments that I was confident would be required. First was the Airspeed Indicator, Altimeter, Attitude Indicator, Directional Gyro, Switch Panel, and Chronometer. Next on the list to purchase was the Rocky Mountain Encoder and probably the S-Tec Autopilot. I had (note the past tense used here) already decided on the basic instrument layout and cut the panel for those instruments. Several were already mounted on the panel and ready to start wiring and/or plumbing as required. The left side of the panel which would include all the basic instruments and switches was finalized. (again, note the past tense)

---
But THEN came Oshkosh or if you prefer, "AirVenture 2001"
and all my best laid plans went down the toilet.
---
While making my initial "See What's New" tour of Oshkosh, I encountered the BlueMountain Avionics tent and the best (IMHO) new product of the entire show. Their EIFS system just blew me away with both its functionality and an affordable price too. Here, in one neat package was everything that I wanted on my panel and a few extras for good measure. I will not try to explain everything here since their web site can do a much better job than I can. (See Below)

Click on the above logo to link
to the BlueMountain Web Site.

BLUE MOUNTAIN HAS CLOSED
AND NO LONGER SELLING ANY
PRODUCTS...SUPPORT HAS
ALSO ENDED!
What this system includes is practically everything you would normally have spread all across your panel. All primary flight instruments, engine instruments, CDI, GPS Moving Map Display, and an Autopilot control built into one neat package and single display. Its lighter, smaller, and does away with the vacuum pump requirement. (The vacuum pump is probably one of the highest failure items and has been blamed in several accidents in IFR conditions.) When everything is included and you total the costs, it comes to a significant savings over the price of the individual instruments and displays.

On-Screen text displays show:

| | |
| --- | --- |
| - True Course | - Wind speed and direction (true) |
| - Groundspeed | - Distance to Waypoint |
| - Time To Go (hh:mm) | - Current time |
| - Current GPS Position | - Fuel in tanks at takeoff |
| - Fuel remaining in tanks | - Fuel flow |
| - Fuel remaining at desintation | - Outside air temperature |
| - True airspeed | - Density altitude |
(Note: Blue mountain now offers a backup unit (EFIS/lite) that includes the four primary instruments, airspeed, altimeter, vertical speed, and attitude gyro.)
Photos of the Blue Mountain Componets
---
YES, great you say, but what about backup?

---
Backup was a primary concern for me as well. I could easily see adding the Blue Mountain EIFS as the primary and retaining those nasty vacuum gauges as the backups, but what a waste of panel space. Blue Mountain has now come out with a second unit called EFIS Lite which will be an excellent backup system. They have also added and Autopilot and Servos to their list of offerings.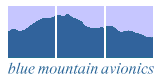 Click on the above logo to link
to the BlueMountain Web Site.
EFIS Lite
BLUE MOUNTAIN HAS CLOSED
AND NO LONGER SELLING ANY
PRODUCTS...SUPPORT HAS
ALSO ENDED!
---

Whats next? Well, I ordered the Blue Mountain EIFS at Oshkosh and received it in December 2001. I wrapped it and let my wife give it to me for Christmas. I already had the switch panel from Control Vision but will now have to modify the tray and panel some to fit the new layout. (The Blue Mountain Display will fill most of the left side of the panel and leaves no room for the switches). Now its just a matter of determining the location of the remaining instruments and avionics. I will also be installing a second pitot system in the right wing to supply the feed for the backup system. I look forward to flying one of the most advanced panels available.
BLUE MOUNTAIN HAS CLOSED
AND NO LONGER SELLING ANY
PRODUCTS...SUPPORT HAS
ALSO ENDED!
---